Workstation Assessment
Bronze
Health & Safety Programme
Workstation assessments – self-completion and basic recommendations for individuals or groups.
We can help assess any data collected already and make our recommendations.
This is a health and safety requirement for all new employees and at regular intervals.
From £10
Review - Evaluate - Record
Silver
Staff Care Programme
Workstation layout and employee posture review assessed one-to-one.
Body Mapping is used so employees self-score their pain & stiffness at work.
A review of symptoms & treatment or advice is provided by our Osteopaths.
From £45 
Benchmarking & Training
Gold
Staff Wellbeing Programme
"Before & After" photographs record changes to workstation and posture as a reference point.
We offer training on workstation use, home lifestyle and exercise complementing work demands.
This detailed assessment can make all the difference to wellbeing in the workplace.
From £125
Our healthcare practitioners have many years' experience improving Workplace Health with osteopathy. We offer both online telehealth and hands on treatment to help you with your Workplace Health.
Whether you are suffering from Lockdown COVID19 effects as a result of sitting more with less exercise, stress and poor quality rest – or, you are an HR, Facilities Manager or a Health & Safety Officer looking after the health and well-being of your workforce – we can help.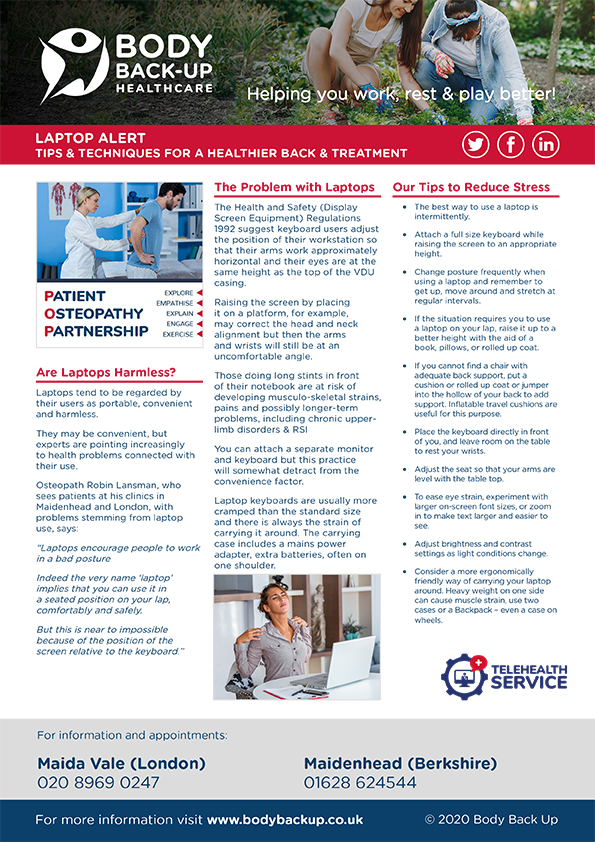 What causes poor Workplace Health?
Poor workstation health will often lead to more long-term health conditions such as back pain, poor posture, RSI (repetitive strain injury) and poor mental health. Discomfort most commonly comes in the form of back ache, neck ache and headaches. Making improvements to your workstation set up is vital in ensuring that your wider health and wellbeing is maintained.
How we treat poor Workplace Health
We will carry out a virtual workstation assessment to understand the desk layout as well as an employee posture review which is assessed one-to-one. We use body mapping so that the individual is able to self-score their pain & stiffness at work. A review of symptoms & treatment or advice is provided by our Osteopaths.
Workplace Health specialists
Our Osteopaths are skilled in treating the root causes of poor workstation health. We specialise in treating RSI, headaches, neck and back strain in particular. If you are struggling with pain, we can help. Get in touch today.