Our healthcare practitioners have many years' experience treating Sports Injuries with osteopathy. We offer both online telehealth and hands on treatment to help you with Sports Injuries.
Whether a result of a general sprain or high-level sports injury our osteopaths will diagnose and treat you effectively so that you can return to fitness and continue sports.
We work in conjunction with registered physiotherapists at our London practice, NW3.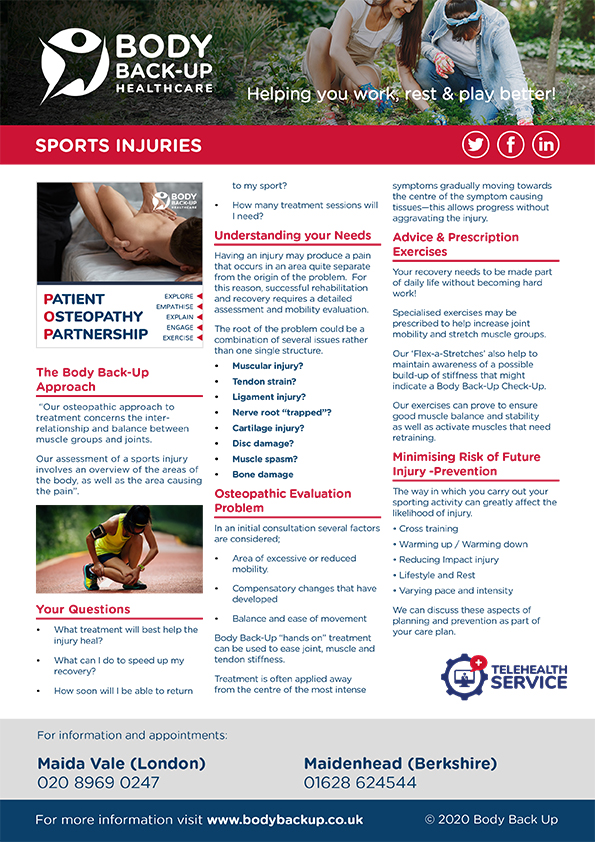 What causes Sports Injuries?
Sports injuries are most commonly caused by poor training methods; structural abnormalities; weakness in muscles, tendons, ligaments; and unsafe exercising environments. The most common cause of injury is poor training.
How we treat Sports Injuries
We can help you review your exercise programme in the light of your personal goals, making your stretches more effective and improving performance or reducing injury time-outs. Not only can we help you to speed up your recovery but also estimate how soon you should be able to return to your sport. This will allow you to achieve full recovery in minimum time, as well as discover ways of protecting against future injury.
Sports Injuries specialists
Our Osteopaths are skilled in distinguishing the root causes of Sports Injuries. We specialise in treating Sports Injuries. If you are struggling with pain, we can help. Get in touch today.