Our healthcare practitioners have many years' experience treating Pregnancy Aches & Pains with osteopathy. We offer both online telehealth and hands on treatment to help you with Pregnancy Aches & Pains.
Whether you are planning a pregnancy and want to prepare your body, or you are currently pregnant and suffering with aches and pains across your body, our specialist pregnancy osteopaths can help you.
We work in conjunction with private GP's that specialise in maternity and pregnancy care from our London practice, NW3.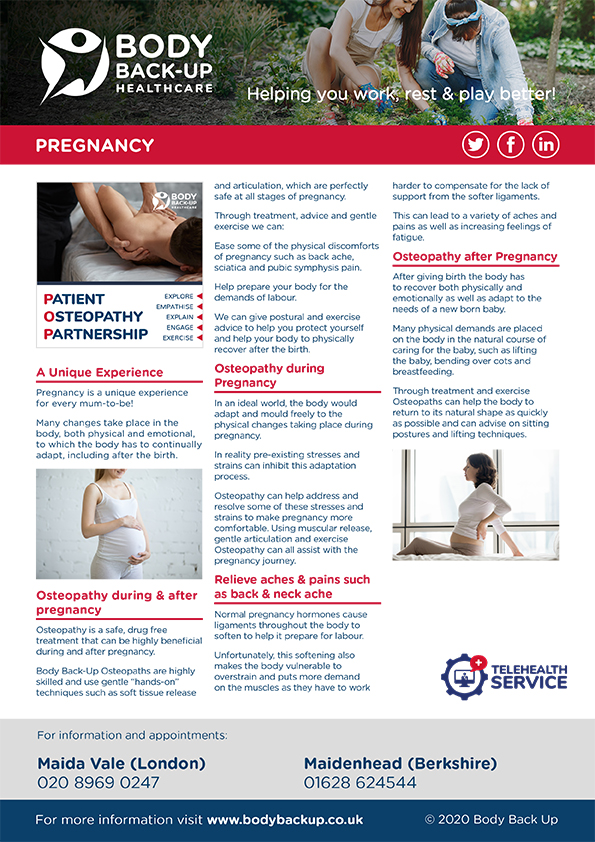 What causes Pregnancy Aches & Pains?
Normal pregnancy hormones cause ligaments throughout the body to soften to help it prepare for labour. Breast feeding maintains this laxity hormonally. This softening also makes the body vulnerable to over strain and puts more demand on the muscles as they have to work harder to compensate for the lack of support from the softer ligaments.
How we treat Pregnancy Aches & Pains
We are highly skilled and use gentle "hands on" techniques, which can be applied appropriately at all stages of pregnancy using treatment and gentle exercise we can ensure your body is working optimally during each trimester.
Pregnancy Aches & Pains specialists
Our Osteopaths are skilled in distinguishing the root causes of Pregnancy Aches & Pains. We specialise in treating Pregnancy Aches & Pains. If you are struggling with pain, we can help. Get in touch today.