Our osteopaths have many years' experience providing Foot Arch Supports alongside osteopathic treatment. We offer both online telehealth and hands on treatment to help you with Foot Arch Supports.
Orthotics are inserts placed in shoes to support atypical movement of your feet. If a person positions their feet and ankles in an abnormal way during movement, this can cause pain in these areas, as well as other areas in the body.
Orthotics are used to help distribute your weight more evenly across the whole surface of your foot. This relieves pressure and offers cushioning, whilst providing support.
Though the main problem lies with the feet and ankles, poor positioning of these areas can cause problems that you may not be aware of. Orthotics may be a good choice for back pain and arthritis too on top of foot, ankle and leg pain.
Together with osteopathic techniques and exercises, orthotics can help to correct feet that frequently roll out of position. Wearing orthotics in your shoes also provides additional support to your arches.
We work with registered podiatrists and chiropodists when there are foot health issues or you need bespoke orthotics.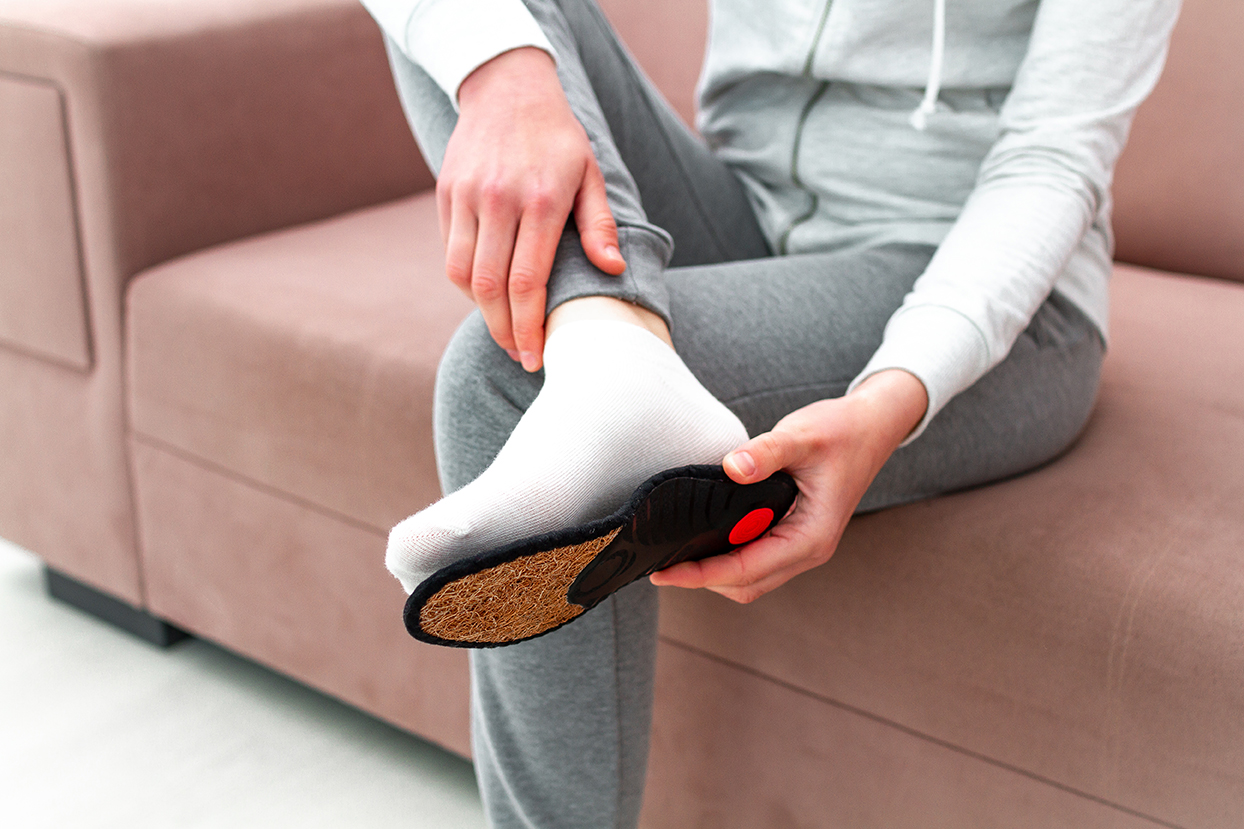 First, we look at the body as a whole in relation to the feet. During assessment, we take your spine, posture and walking gait into account. Please bring old orthotics and shoes with you.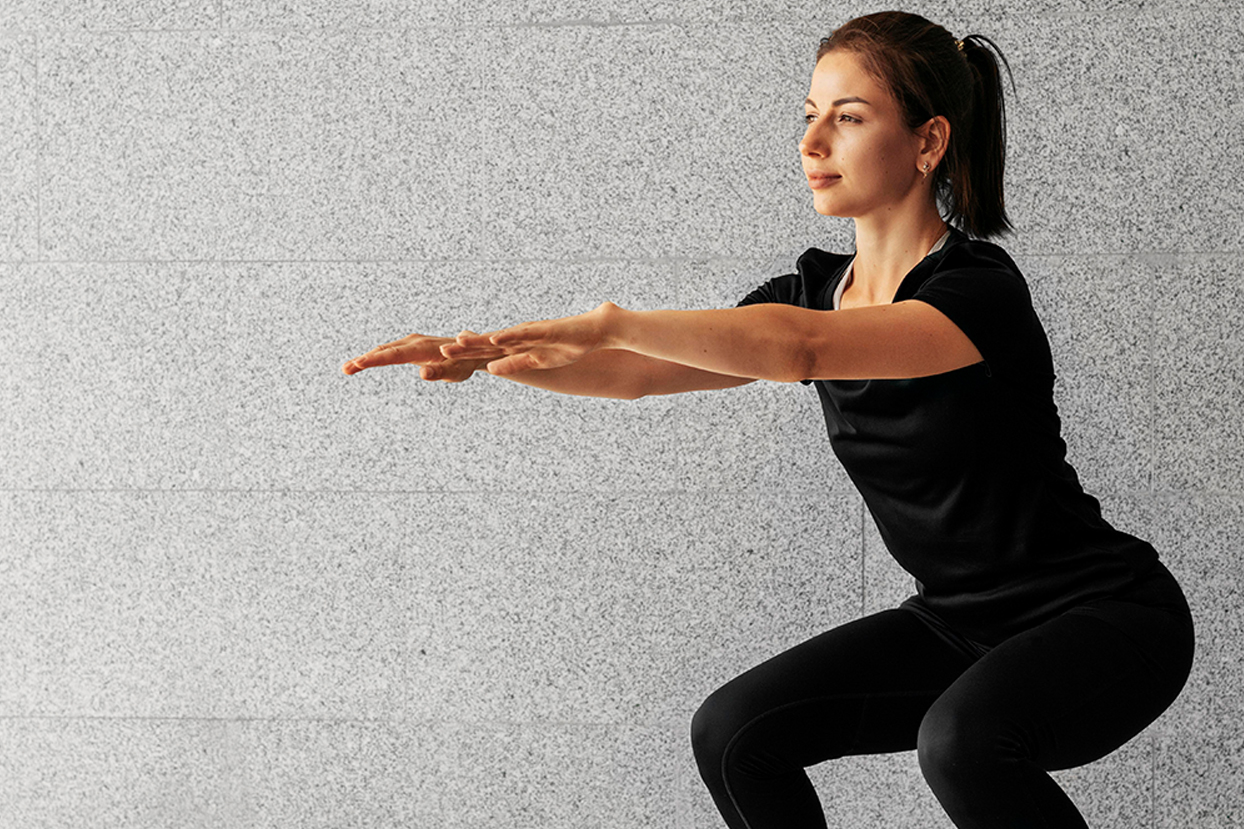 Then we ask you to perform a few physical tests, such as squats and lunges. This is so the osteopath can analyse your positioning and posture during movement.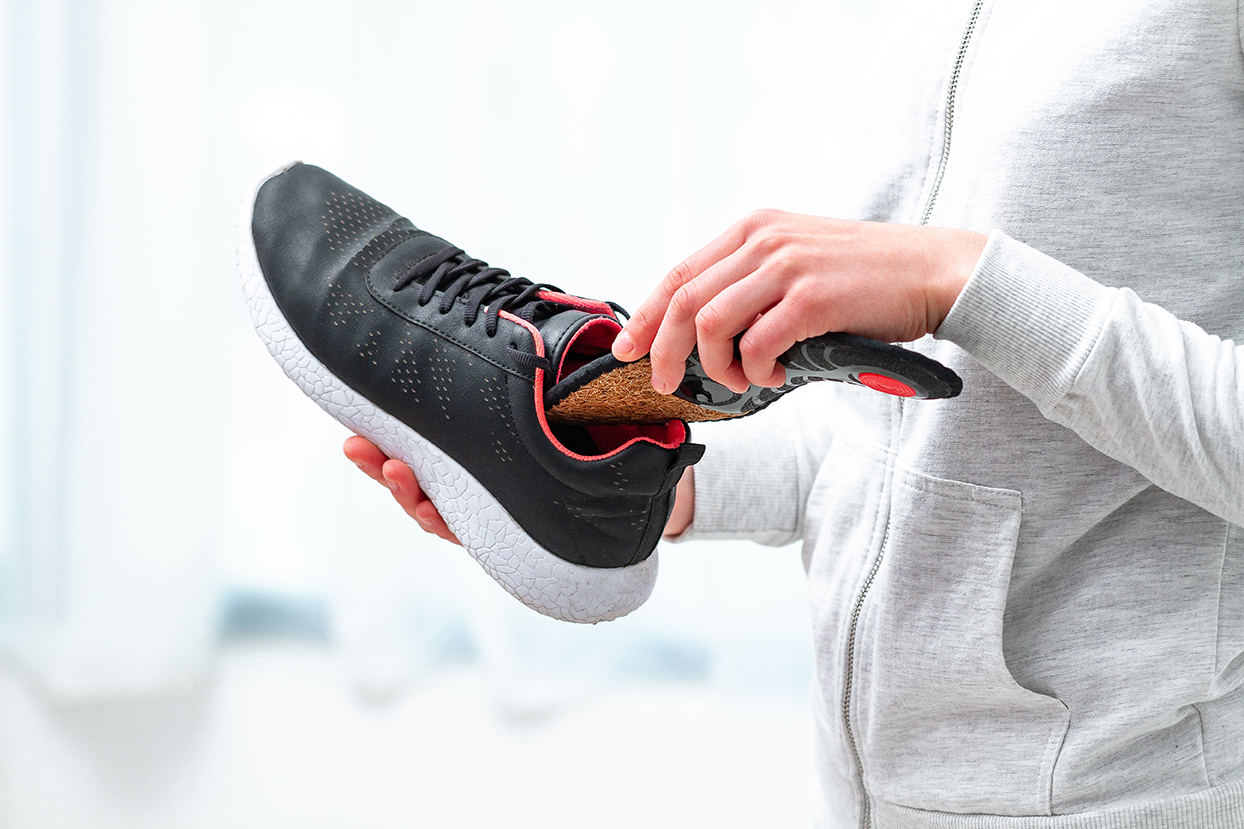 If you already use orthotics, after your assessment, your osteopath will let you know whether they need updating. If you are new to orthotics, they will choose the best size and fit that they think will work best for you.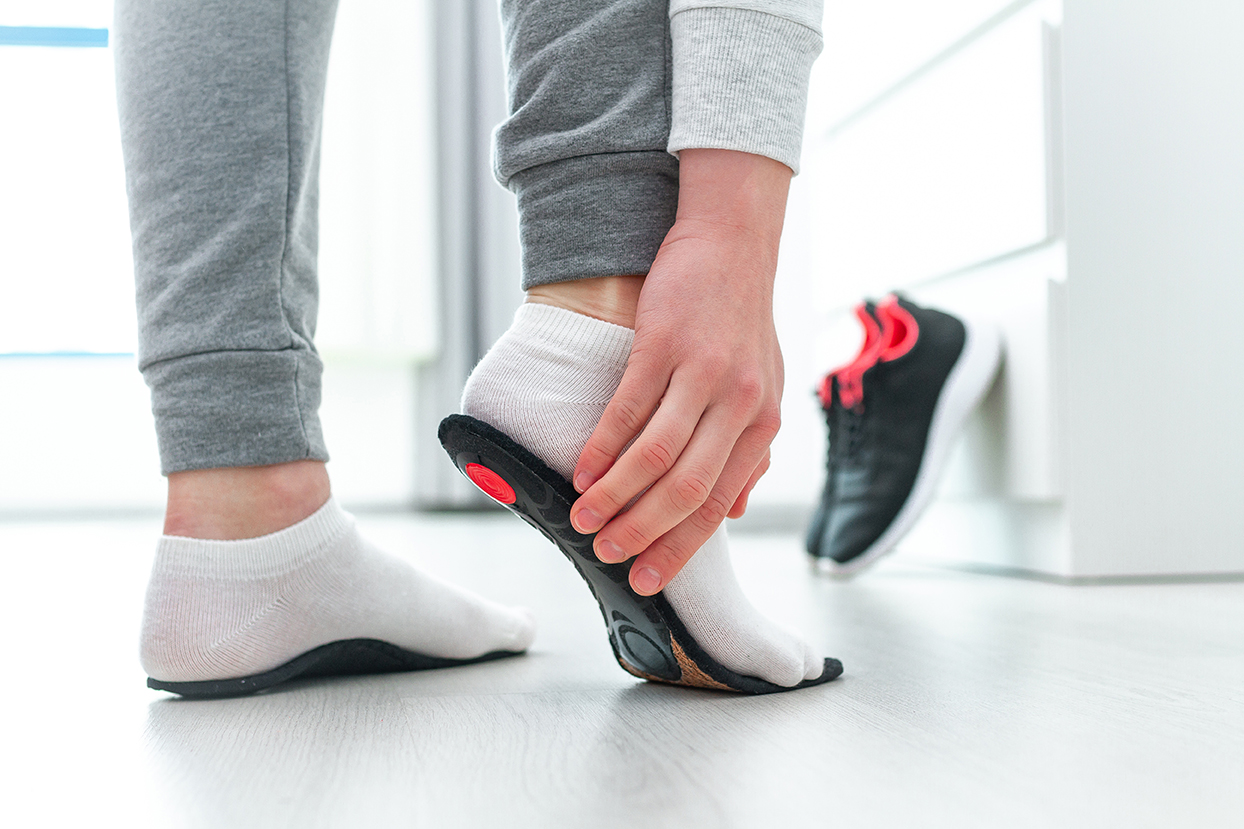 To ensure that the problem does not persist, the osteopath will also prescribe exercises for you to carry out at home.
Our Orthotic Products
At Body Back-Up we provide a range of orthotic foot supports and insoles. We offer half or full insoles that come in sizes XS to XL. Whether you need insoles for your work shoes, sports trainers or heavy duty boots, our products suit all kinds of activities and footwear.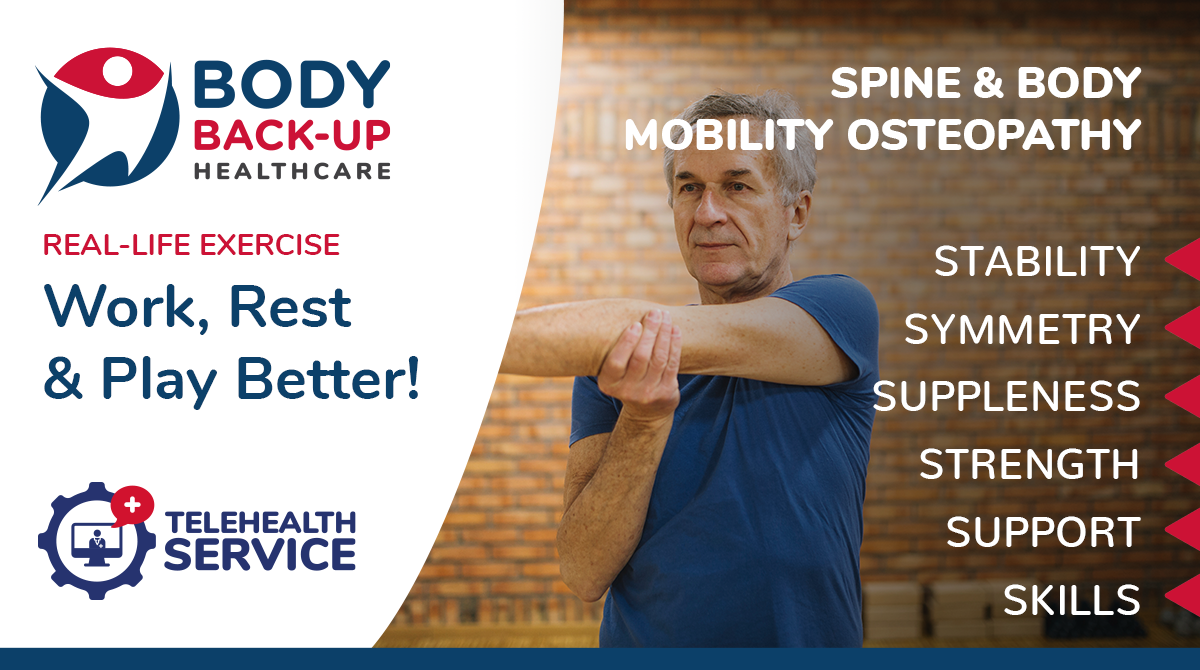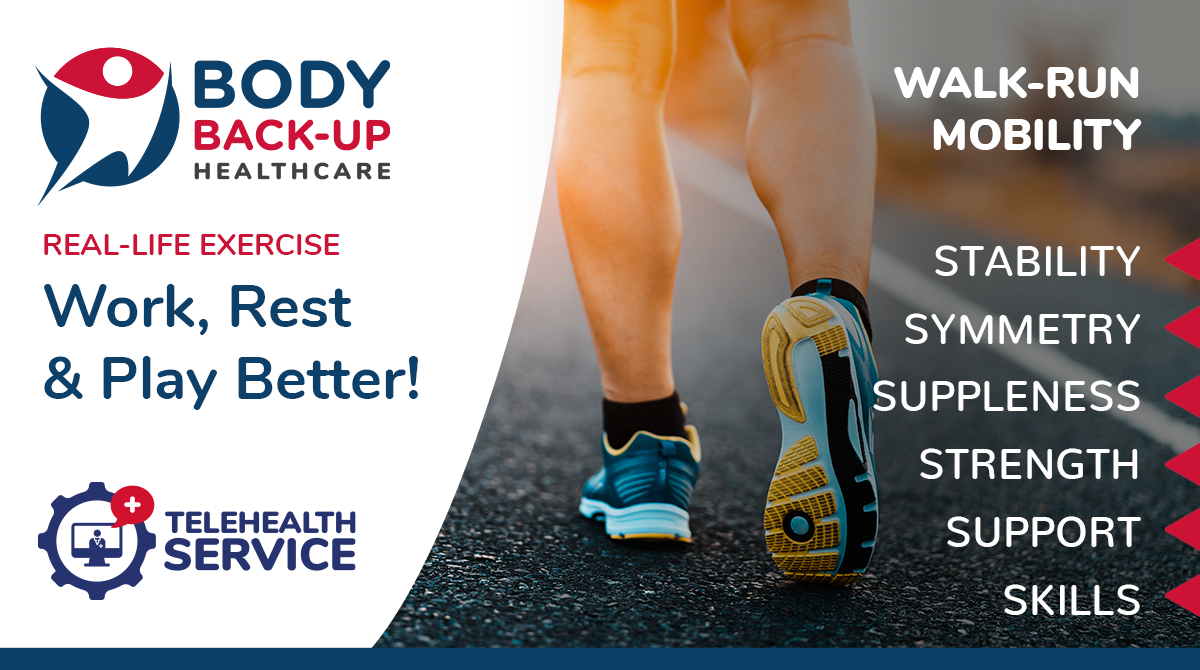 Treating the root cause rather than the symptom
I have visited Robin Lansman and his team for several years after suffering since my late teens with lower back problems. Robin quickly pointed out other areas that could bring on the problems and in actual fact, all the other treatments I had gone through in the past were treating the symptoms rather than the root cause. With a bit of work, and following the exercises, I have reduced my pain to minimal levels, know when things are getting out of balance again and, importantly, know how I can help myself to stop the pain from spiralling out of control.
I cannot recommend Body Back-Up highly enough and have sent several members of my family to Robin so that they can also benefit from his expertise and knowledge.
Locked Back
Robin Lansman was recommended to me by a skiing friend of mine who was watching me struggling with a Locked Back in Klosters. I had been to a sports doctor who, fancy on paper, prodded me, but didn't actually tell me what to do.
Anyway, I pitched up at Maida Vale and 6 sessions later I am a lot better and my next skiing session was in a different league. Highly recommended!
I emailed Robin Lansman digital photographs of my desk at work and he has tweaked how I sit. Also my bike, which was rejected out of hand as being totally unsuitable such a good idea. As a result my back is miles better.
Body Backup really are very helpful and are highly recommended they will sort you out.
Sports Injury Care
Thank you so much for all your advice and the work you did on my knee and back before the Rome half marathon on Sunday. I completed the race without stopping to walk in 1:54:57, a time I would have been aiming for if I had not been injured, and had the month before the race to train! I really think you helped me achieve this and I am thrilled. Thank you so much.
Spinal Damage – Slipped Vertebrae
Had a long journey so far, with an injury from 2004. Spinal damage – slipped vertebrae (spondy) and torn hip ligament. Had an operation (after 3 years of chiropractic, physio and personal trainer), screws and spacer for my spine. My recovery has been progressing slowly since 2007, but grew frustrated more recently that I still cannot sit, stand or walk comfortably, let alone run.
After 3 sessions with Robin, and maintaining a regular daily schedule of the simple but effective exercises he gave me, my hip pain has greatly reduced, and I am now able to sit, stand, walk and even run comfortably.
I cannot believe the difference these three sessions have made to my mobility and comfort levels. I have known for some time that I needed to retrain muscles to support correct joint movement, but hadn't found anyone who could help me to achieve this efficiently. Until now. So Happy.
Long Term Back Pain Resolved
I have suffered with back pain for 20 years and seen Consultants, Physio's & Doctors and none of the advice or treatments helped. Pain relief worked but only to mask the underlying issue. I have probably spent "Thousand of pounds" on medication, private appointments, orthopaedic devices and time off work. AFTER just ONE £45 session my back felt like a "million dollars". PROPER advice and diagnosis has helped along with my own research. I was not "Power Sold" further treatments, but will be making another appointment next month.
Treatment is a two way responsibility and I am so glad I had finally found a healthcare professional in Karen Phillips, who understood and diagnosed me immediately. Am still waiting for the good effects to wear off! Great nights sleep, drive into work good. Posture issue also identified. The rest is up to me now to maintain and exercise. MANY MANY THANKS I now no longer live in pain or FEAR of back spasm's.
Improving Mobility
I was recommended to come to Body Back-Up by my GP. The difference it has made in my life has been tremendous! I have had about six treatments now and whereas I could barely get in or out of the car or stand for any great length of time I now find that my life has changed and I have my fitness back. I have got my life back and my mobility is just so much better now that it was when I first came here to see Robin Lansman. I have got my life back and am able to do all the things I couldn't do before and in fact have probably never been able to. Thank you!